Main production
Our Main Production is a fully staged grand opera, complete with an orchestra and fabulous costumes, sung entirely in English. It takes place every spring at 1532 Performing Arts Centre.
Our Main Production for 2019 is La Belle Helene. Please see here for audition details.
Autumn concert
In Autumn we often perform a concert version of a lesser known but equally exciting opera with a full orchestra. This is often your only chance to get introduced to these wonderful operas.
Our concert for 2018 is Brush Up Your Shakespeare!
Past operas
2018
Der Freischütz – Weber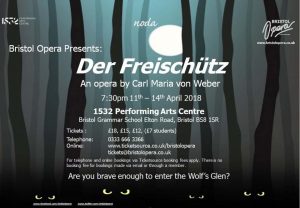 2017
Carmen – Bizet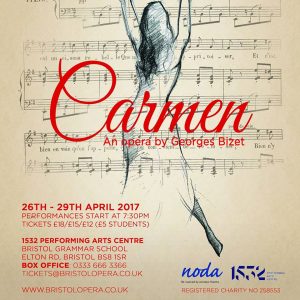 2016
Cavelleria Rusticana – Mascagni
Il Campanello – Donizetti
The Poisoned Kiss – Vaughan Williams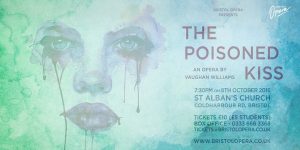 2015
The Rake's Progress – Stravinsky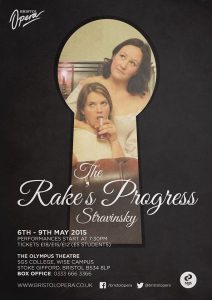 Idomeneo – Mozart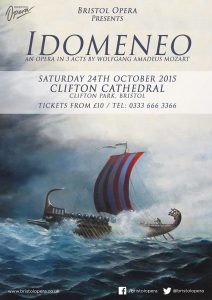 2014
The Flying Dutchman – Wagner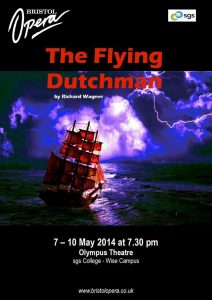 The Beauty and the Beast – Selwyn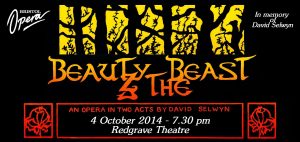 2013
The Tales of Hoffmann – Offenbach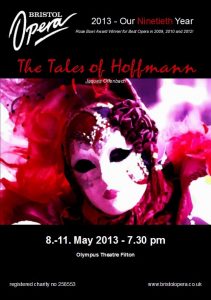 The Cunning Little Vixen – Janáček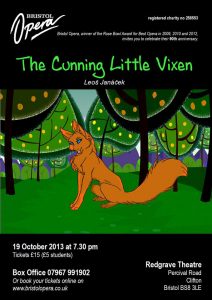 2012
The Vampire – Marschner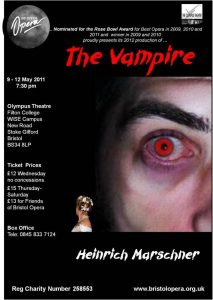 Fidelio – Beethoven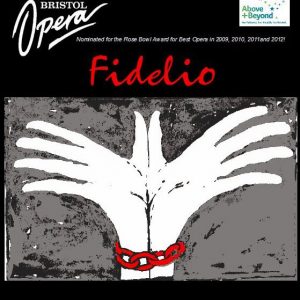 2011
Manon Lescaut – Puccini
Goyescas – Granados
2010
The Pearl Fishers – Bizet
Le Villi – Puccini
2009
Eugene Onegin – Tchaikovsky
The perfect Fool – Holst
2008
La Périchole – Offenbach
Down in the Valley – Weill
Help, Help, the Globolinks – Menotti
2007
The Bartered Bride – Smetana
Der Mond – Orff
2006
Dido and Aeneas – Purcell
Sister Angelica – Puccini
Ivanhoe – Sullivan
2005
Lakmé – Délibes
The Marriage of Figaro – Mozart
2004
Samson – Handel
2003
Viola (World Premiere) – Marlow
Les Indes Galante – Rameau
2002
Cosi fan Tutte – Mozart
Carmen – Bizet
2001
Don Giovanni – Mozart
Macbeth – Verdi
2000
Madam Butterfly – Puccini
Die Fledermaus – J Strauss
1999
The Barber of Seville – Rossini
Nabucco – Verdi
1998
The Magic Flute – Mozart
Aida – Verdi
1997
La Traviata – Verdi
Turandot – Puccini
1996
L'Élisir d'Amore – Donizetti
Doctor Miracle – Bizet
Dido and Aeneas – Purcell
1995
Eugene Onegin – Tchaikovsky
A Masked Ball – Verdi
1994
The Marriage of Figaro – Mozart
Prince Igor – Borodin
1993
Carmen – Bizet
1992
Don Carlos – Verdi
1991
Faust – Gounod
1990
Islanders – Selwyn
The Sicilian Vespers – Verdi
1989
The Flying Dutchman – Wagner
1988
Macbeth – Verdi
1987
Samson and Delilah – Saint-Saëns
1986
Cavalleria Rusticana – Mascagni
I Pagliacci – Leoncavallo
1985
Der Freischütz – Weber
1984
Turandot – Puccini
1983
Aida (performed in Bristol and Malta) – Verdi
1982
The Saint of Bleeker Street – Menotti
1981
Manon Lescaut – Puccini
1980
Nabucco – Verdi
1979
The Bartered Bride – Smetana
1978
Jewels of the Madonna – Wolf-Ferarri
1977
Aida – Verdi
1976
Carmen – Bizet
1975
The Wreckers – Smyth
The Wandering Scholar – Holst
1974
Sister Angelica – Puccini
Gianni Schicchi – Puccini
Cavalleria Rusticana – Mascagni
1973
The One Before – Petrie/Forster/Marsh
The Force of Destiny – Verdi
1972
Prince Igor – Borodin
1971
La Périchole – Offenbach
1970
Semele – Handel
La Gioconda – Pochielli
1969
L'Élisir d'Amore – Donizetti
1968
Boccaccio – Suppé
1967
Faust – Gounod
Strike a Chord! (A Revue) – Petrie/Forster
1966
Bethlehem – Rutl and Boughton
The Barber of Bagdad – Cornelius
1965
Carmen – Bizet
1964
The Czar and the Carpenter – Lortzing
Dr. Miracle – Bizet
1963
Cavalleria Rusticana – Mascagni
The Lowland Sea – Wilder
Engaged (Revised Version) – Rowell-Mobbs
1962
Engaged (World Premiere) – Rowell-Mobbs
1961
The Travelling Companion – Stanford
1960
The Lily of Killarney – Benedict
1959
The Poaching Schoolmaster – Lortzing
1958
King Arthur – Purcell
1957
Down in the Valley – Weill
The Conspirators – Schubert
1956
The Bartered Bride – Smetana
1955
Martha – Flotow
1954
Eugene Onegin – Tchaikovsky
1953
Hugh the Drover – Vaughan Williams
1952
The Merry Wives of Windsor – Nicolai
1951
The Fairy Queen – Purcell
1949
The Magic Flute – Mozart
1948
The Bartered Bride – Smetana
1938
The Fairy Queen – Purcell
1937
The Poisoned Kiss – Vaughan Williams
1936
La Gioconda – Ponchielli
1934
Der Freischütz – Weber
1933
Sir John in Love – Vaughan Williams
1932
May Night – Rimsky-Korsakov
1931
The Magic Flute – Mozart
1930
Oberon – Weber
1929
The Bartered Bride – Smetana
1928
King Arthur – Purcell
The Perfect Fool – Holst
1927
Hugh the Drover – Vaughan Williams
1926
Ivan the Terrible – Rimsky-Korsakov
1925
King Cole Ballet – Vaughan Williams
Fêtes Galante – Ethel Smyth
The Snow Maiden – Rimsky-Korsakov
1924
Savitri – Holst
The Snow Maiden – Rimsky-Korsakov